Top 5 Green Living Room Ideas to Redecorate with the Summer's Most Harmonious Hues
Sage green is all the rage this season. If you spend any time browsing for living room inspiration on Pinterest then what you'll find is, it's abuzz with all things green.
We couldn't agree more, sage might as well be a neutral it's so likeable and versatile.
Sage green aside, green is such a tranquil, inviting colour that draws guests and family members into your den for some quality time. Unlike warmer hues, this subtle cool colour will re-energize, calm and relax you. Ideal for any family room.
Incorporate green into your living room and build a harmonious environment for your guests to gather.
How to add green to your living room
Get your green thumb out and get ready to add a touch of green to your living space using these simple design ideas to liven things up!
Fifty shades of green
Whether you are passionate for neutrals or you're wild for dramatic colours, you can never go wrong with green. There's a shade for every taste.
If you're wanting to create a cozy and mellow space for family time, try painting your walls a soothing mossy or sage green. Now all you need is a fluffy white blanket to snuggle up under and a plush white rug to finish the look.
For the sophisticated individual, go for that timeless 70s look and paint your walls a deep forest green. Paired perfectly with floor-to-ceiling wooden bookshelves for that chic scholarly feel. Deeper shades of green also work well in century homes or houses with a lot of wooden architecture, for that traditional look. Toss in a plaid accent or two for that cozy cabin feel.
Let your inner yogi out and paint your walls zen green. Or if that's too much, paint your walls white and add one zen green accent wall. Complete the look with black framed photos, black accents (like Buddha figurines) and zen green throw pillows to marry the wall colour.
Try out millennial blush pink with green for a very trendy and bold space! Utilize pink in the furniture then add some geometrical design elements and gold to unite the look.
Green furniture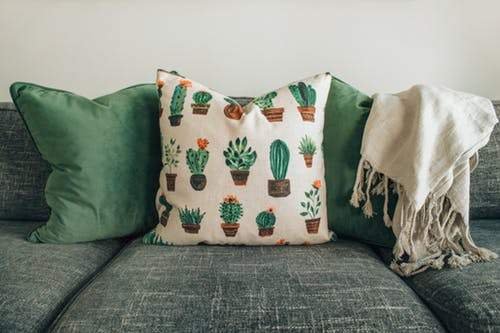 If you're in the market for a new sofa or if it's more cost effective for you to add a slipcover, try green on for size. Dark green seating is very alluring – it's almost like sitting on grass – can you blame your visitors for wanting to take a seat on your cozy furniture? If you go for dark green furniture, make it eye-catching with metallic accents.
Greenery
Bring the outdoors inside and incorporate potted plants. Mix and match with standing planters, hanging baskets and wall planter pots for indoors. If you're turning your living space into a botanical garden, paint your walls white! And don't be afraid to use touches of green: blinds, rugs or accents!
Wallpaper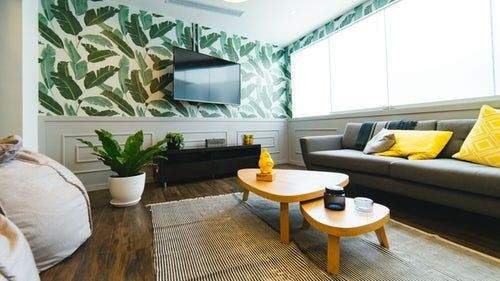 Add a theme to your living room using green wallpapers. From country garden to everlastingly stylish patterns.
Introduce floral wallpapers if you want to turn your space into Grandma's house, only chicer. A light floral wallpaper paired with grays, pinks and wooden pieces will give a comfy garden feel.
Are you afraid of too much green but enjoy patterns – then use a timeless fretwork, ikat or light striping. It's not overpowering and will never be out of style!
Liven up your living room with green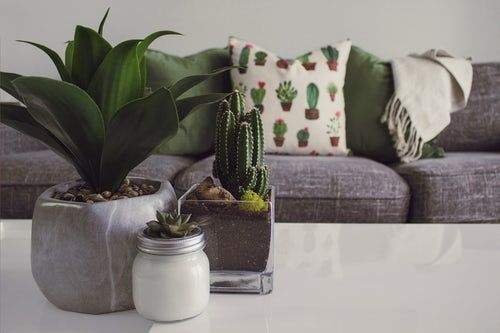 Nothing sets the tone more than colour, set the ambiance of your den to draw in your guests with relaxing and refreshing green. Bring the outdoors inside with greenery, so you can breathe easier and cherish the moments made in your little slice of paradise.