Furniture For Summer Cottages Which Can be Made using Pallets
Pallets (or cargo pallets) are a versatile material for creating furniture and decor items. The imagination of designers is endless. Today unique pieces of furniture are created from this inexpensive material. These include tables, chairs, beds and sofas.
Today, when civilization is increasingly replacing nature, number of robots, various machines increases and such robot as conventional palletizer is familiar to us. And we are trying to use more of remnants of production as pallets. We are trying to bring as much environmental friendliness as possible into his daily life. This trend is evident in everything. It can be from houses made of glass and wood to furniture made from natural materials. In recent years, the eco-style interior and its individual elements have gained particular popularity.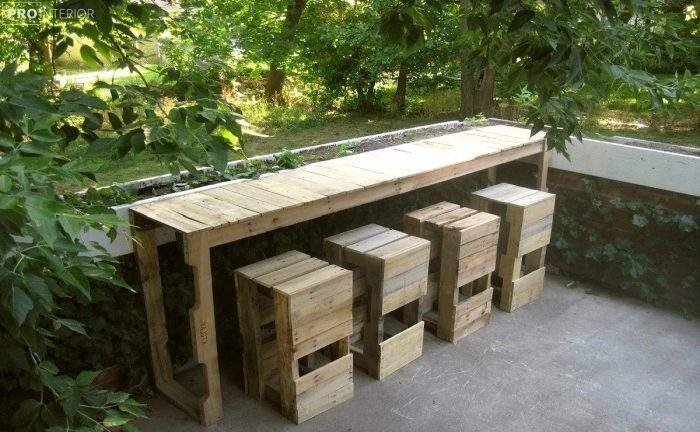 Pallets for making furniture
Pallets are ideal for making garden furniture. A certified pallet is made of edged boards with a thickness of 20-25 mm. It is capable of withstanding a load weighing up to 1500 kg. And although pallets are considered reusable containers for the transport of goods. It is not uncommon for the final recipient to sell them at a "bargain" price.
Methods of manufacturing country furniture from pallets Country furniture from pallets can be made in several ways: From whole pallets. In this case, the length will be a multiple of 1200 mm, and the height – 145 mm. The width will be 800 or 1000 mm. From cut pallets. If you cut along the central board, then, taking into account the cutting width of the saw (approximately 3 mm), you will get two parts of different widths: 472 mm and 325 mm for euro pallets, 560 mm and 437 mm for fin pallets.
The same asymmetry, but with its own dimensions along the length, is obtained if the pallets are cut by the reproach. Usually, for furniture, they take wider parts that retain the necessary rigidity, and the narrower cut parts are disassembled into boards. From boards of disassembled pallets. And of course, garden furniture from pallets can be produced in a "combined" way – from whole and cut pallets using separate boards and additional blocks.
What Kind Of Furniture For Summer Cottages Can Be Made from Pallets
You can make any country furniture from pallets with your own hands. Naturally, you can't make a rocking chair from a board and a bar, but the rest is within your power:
1. Benches
Three whole or cut pallets stacked on top of each other have a height of 43.5 cm, which fits perfectly into the ergonomic requirements for the height of a bench or chair.
2. Sofas and armchairs
They are subject to the same height requirements as benches. If we talk about hard seats, then the best option would be three pallets, standing on top of each other. Upholstered garden furniture is additionally equipped with sofa cushions, and in this case, two pallets are enough.
The depth of sofas and armchairs usually ranges from 0.5 m to 1 m, and 80 cm is considered the optimal size.And if these pieces of furniture are made from pallets, then a pallet cut in width or length may still be suitable for hard products, and for soft ones, with Given the pillows, only whole samples are needed. Tables. An analogue of a coffee table for a summer cottage corner can be made from a whole pallet – a book, tablet, cup or saucer will not fall into the "hole" of the table top. It is better to make a dining table with a solid tabletop, otherwise the appliances can fall into a gap.
3. Swing
A single swing is made from a quarter of a pallet – a trimmed part in length and width. Double swing can be of different designs – from the usual rigid modification from a half pallet to a soft sofa with a back and pillows.
4. Shelves and whatnots
Depending on the size of the items that will be stored on them, the racks can be made with slotted flooring or with a solid one, when slats of the appropriate width are stuffed into the gaps of the pallet.
5. Beds
The height of a bed with a classic mattress is 50-62 cm. Depending on the type of mattress and the number of beds, the bed may require two or three pallets in height, two in length, one or two in width.
In conclusion, it should be noted the interesting possibilities that the concept of "modular" furniture gives. You can make several modules of the same height, but different in design – for example, blocks of two pallets without a back and with a back. And then from them, as necessary, collect various pieces of furniture: a sofa with a coffee table, a sitting area or a bed. Lear more tips fpr home aesthetics too!
Before making a specific piece of furniture, you need to make a general drawing, and then, if necessary, on its basis – a detailing of each element. If there are no relevant skills for such work, then the drawings can be found on the Internet.