Gone are the days when office was where you worked for a living, and home was where you actually lived. Today, office and home meet seamlessly in the Small Office Home Office (SOHO). One of the most critical pieces of equipment for both office and home is a reliable, easy-to-use and cost efficient all-in-one (AIO) printer that can efficiently perform multiple functions. Well, here's a list of the top 10 best all-in-one printers of 2016 that can do all this and more. Take your pick.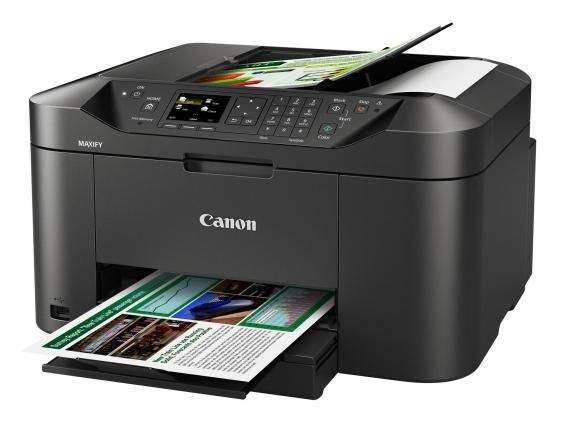 Epson Expression Photo XP-850
This versatile AIO inkjet device prints at 9.5 pages per minute (ppm) for black and white (b/w) and 9 ppm for color, copying is brisk at 8.1 copies per minute (cpm) for both b/w and color. Fax rate is a breezy 20 ppm. You can print wirelessly through your mobile device or Ethernet connectivity, or use the printer's memory slots. You can also do a whole lot of photo editing, borderless and border printing, CD and DVD printing.
With auto duplexing, it also saves you money elsewhere: the XP-850 uses six cartridges for different colors – you need to change only those that run dry, instead of replacing the whole set. The result is stunning, smear resistant pictures (max 5760 x 1400 dots per inch – dpi) at low cost. At sub-$250, it's a great printer to have in your SOHO.
Canon Pixma MG
This low cost, multifunction AIO inkjet is pretty nifty at printing: 12.5 ppm b/w @ 600 x 600 dpi, and 9.2 ppm color @ 9600 x 2400 dpi. Copying is quite fast at 12.5 ppm for b/w and 14 ppm for color. It allows wireless printing through mobile device, Ethernet or the printer's USB and memory slots. Standard features include online photo editing, borderless and border printing, CD and DVD printing, auto duplexing.
However, thanks to a rather unique control system on the top panel, there is no auto document feeder: this might be a disadvantage for offices with large printing needs. At under $150, the Canon Pixma MG is a very smart, quick and useful printer to have around the home or office.
Epson WorkForce for Home WF-3520
A very inexpensive workhorse, this wireless enabled, multi-purpose device can print docs and photos, including borderless and large size prints at 15ppm for b/w and 9.3 ppm for color at 1440 x 570 dpi; copy at 13 ppm and 7 ppm for b/w and color, respectively; and fax at 20 ppm with a 180 page fax memory, apart from scanning and other functions. The only glitch, if at all, is the small size of the otherwise very legible LCD display. At less than $120, this is a good printer to have at home or even in the office.
HP Photosmart 7520
Names can be misleading. This efficient, multifunction printer is as good for printing documents, editing pictures, scanning, faxing, copying and handling other office tasks as it is for printing amazing photos. Although a tad slow at printing, copying and faxing, it delivers stunning color photos with a maximum resolution of 9600 x 2400, and b/w prints at 600 x 600. With a 25 page auto document feeder and a 125 page paper tray, you get uninterrupted duplex printing.
But a monthly cycle of just 1,250 pages is a serious constraint. So is the fact that it is wireless enabled and has USB connectivity, but is not Ethernet compatible – a problem if your office is Ethernet wired. So if you are not too hung up on speed or volumes and can do without Ethernet, the sub-$170 HP Photosmart 7520 could be well be the AIO printer you're looking for!
Epson WorkForce Pro WP-4540
This midrange, chunky AIO printer can take care of all your business documentation needs, but is great for personal use too. An autofeeder and a very usable 3.5 inch LCD display make operations smooth and easy. Printing is quick, with a ppm of 16 b/w and 11 color. Three trays hold 580 blank sheets, supporting a heavy monthly cycle of 20,000 pages, including large size documents with auto duplexing, but cannot do borderless prints.
Again, while wireless printing is on, printing directly from a USB device is not supported. Copying is quick at 13 cpm b/w and 8 cpm color. So if you're looking for a quick, flexible printer that can take on large print volumes, the Epson WorkForce Pro WP-4540 for less than $230.
Brother Business Smart J4510DW
This smart AIO printer churns out top quality prints at 20 ppm b/w and 18 ppm color at a max resolution of 6000 x 1200 dpi; copying at a speedy 12 cpm b/w and 9 cpm color; faxing at 20 ppm with a 200 page fax memory: all this for a modest price tag of less than $135. Through a touch panel and a 3.7 inch swipe touch screen LCD display, the J4510DW lets you can print large sheets up to 11 in x 7 in, but what takes the cake is the sideways paper stacking design that allows for quick and easy landscape printing.
Borderless printing, wireless capability, and printing directly from USB devices are great features, but a tray capacity of just 150 sheets is a downer, as is the rather tame 13,000 page monthly duty cycle, considering its speed. All said, this is an excellent printer to have.
Epson WorkForce Pro C
This Pro is for pros. The WP-4533 is a heavy duty AIO printer with great features. It is reasonably quick, printing b/w at 16 ppm and color at 11 ppm at a maximum resolution of 4800 x 1200 dpi. Copying and faxing are also brisk. With a tray capacity of 330 plain pages and a monthly duty cycle of 25,000 pages, it can take on quite a load.
With a 30 page auto loader, four large ink cartridges, double side and borderless printing, wireless capability, and large document printing, you have plenty of options, although the small 2.5 inch LCD display is a bit of a letdown. However, the real stunner here is Epson's unique 3-year warranty.  In the final analysis, this is a great printer for high volume printing, although it's quite pricey at around $363. The choice is yours!
Canon Pixma MX922
For just under $130, the five ink cartridge bearing MX922 gives you a pacy 15 ppm b/w at 600 x 600 dpi, 10 ppm color at 9600 x 2400 dpi, copies at 8.4 cpm and 20 ppm faxes. You also get automatic two-sided printing, large size printing, borderless printing, wireless and Wi-Fi capability, PictBridge and BlueTooth support, and Ethernet and USB connectivity for prints. Tray capacity of 250 blanks, but the monthly duty cycle is not too high. For its speed, print and copy quality, ease of operation, and low cost (less than $130), the Canon Pixma MX922 could be a great aid to your business or at your home.
Brother Professional J6910DW
For a budget printer, this truly professional AIO inkjet printer packs some great features, and high quality of output. A staid 12 ppm for b/w and 10 ppm for color prints at high resolution means you get high quality documents and photo prints. However, copying is this AIO's forte, outputting 17 cpm for both b/w and color, while faxes breeze through at 20 ppm, with a 400 page fax memory. A 3.7 inch LCD touchscreen display helps you control operations. With wireless, Ethernet, USB and other storage device compatibility, you can print from any source.
Dual side and borderless printing and picture editing are other features this printer offers. The best bit is with two paper trays of 250 pages each, you get a full 500 pages in store for uninterrupted printing jobs. An added advantage is the 35 page auto document loader. The downside is that the monthly duty cycle is only 12,000 pages, which is not much by professional standards. But you get a three year warranty, and plenty of Brother support, all for just under $165. A good investment, if your printing requires volumes and quality.
HP Officejet Pro 8600 Premium N911n
This could well be pick of this list. With print speeds of 20 ppm at maximum resolution of 1200 x 600 dpi for b/w, and 16 ppm at an impressive 9600 x 2400 dpi for color prints. Copying speeds are also remarkable: 13 cpm for b/w and 12 cpm for color. Using the standard 4 ink configuration, this printer delivers outstanding prints, does double side, borderless and wireless printing; very fast copying and scanning; and zips out faxes at astonishing speed. It also allows remote printing without a login.
With a full double tray capacity of 500 sheets and monthly duty cycle of 25,000 pages, you don't have to worry about running out of paper or print jobs. There is a useful auto document feeder to make copying easier. Control is via a 4.3-inch touchscreen color graphics display (CGD). And should you ever need it, you have plenty of HP support. Built on the larger side, this very efficient multi-function printer can be your office assistant for just under $160.
AIO printers are an indispensable part of our office equipment, and selecting the best match for your requirements and budget could make a significant impact on your bottom line. This list of the top 10 best all-in-one printers of 2016 should help you make the correct choice of printer for your business and your personal needs.