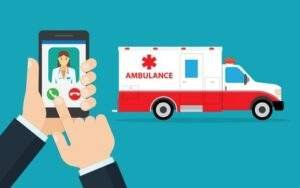 The Uber for medical transportation business is a very noble and rewarding business. However, in order for it to be profitable without hurting its clients, one has to be a little careful. Let us understand the dynamics of the business so that we can explore on how to make it even better.
Types of Medical transportation
Medical transportation can be broadly classified in two different sections:
Emergency Medical Transportation
This is a medical transportation service that comes in use when there is an absolutely critical situation like an accident, heart failure, brain hemorrhage etc. These are conditions when the patient requires immediate medical assistance.
Any vehicle that is used to offer such medical services needs to be equipped with the right kind of medical equipment and apparatus on board. This will ensure that immediate attention can be given to the patient. It also facilitates for the patient to be able to start getting his or her treatment right from day 1.
Non Emergency Medical Transportation
These are basically all kinds of ambulances. These medical vehicles have only the basics. These are used by people who do not have the requirement for any sort of a critical in transit treatment. Mostly, 90% of the ambulances in the world are the non emergency type.
They still do have to carry a qualified paramedic and have all the basic equipments ready to provide first aid if necessary, however, they do not have any advanced instruments. The patients that are carried by these vehicles too are in a relatively harmless state.
Things to consider when starting your own business of medical transportation
Eligibility
The first and the foremost thing to check when you start your own business is to make sure that you are eligible to do it. The eligibility criterion also extends to the drivers that you employ, the vehicles that you keep and so on and so forth.
Every country has its own set of rules and regulations. Therefore, your first step should be to get an idea of the local rules and regulations of the country before you venture into getting yourself your own fleet of vehicles and drivers for the same.
License
Now that you have your fleet and crew ready, you should apply for a license to practice this business. Just approach your local government body and get the paperwork done. There may be different licensing processes for different kinds of vehicles and staff permits. Just read up well and make sure that your license is absolutely airtight.
Keeping a Price Point
A comfortable price point is the key to ensuring that more and more people use your services rather than someone else's. You may even categorize your services such as basic, standard, deluxe, premium; each with a different pricing owing to the different kind of services available.
For example, a basic ambulance is just a carrier, a standard ambulance could provide first aid, deluxe and premium could have any other serious requirements. That way, the people can choose exactly what they want and pay accordingly.
Usability of the Application
When you set up a ambulance business based on an app, a major part of its success lies on its usability or customer comfort. This is because while a lot of people may be comfortable using mobile apps; there are still quite a few people who only understand how to handle limited functions only in the applications.
So, when you have your own app, you have to make sure that the input it requires is pretty basic. Please note that even ambulance drivers will be using your app. Since it is a medical transportation vehicle, there will be people who are not tech savvy and yet will require your services sometime. In order to facilitate this, the app has to have a "tap and go" kind of an interface. It not only makes it easy to use, but also ensures that medical assistance can reach the patient in time.
If you are getting your application built from scratch there may be many scenarios that it is not tested against, however, if you purchase a ready to launch, "off the shelf" kind of an application the chances of it being a successful app will be much higher.
On the whole it may also be a good idea to buy an Uber for Ambulances app to ensure that people can access your services quickly and easily which in turn will help your business grow. Make sure that you keep in sync with the current demands of the market, stay abreast with the technology and monitor every demand of the people so as to be able to furnish them with the right app at the right time.
Author Bio:
Archie Cadell is a veteran taxi booking app developer who has worked with some of the top teams of mobile app building across the globe. He is popular amongst technical readers because of his honest and slapstick reviews and detailed blogs like Darbaar.com.