You can jazz up any event and make it more lively by adding in accouterments to magnify the atmosphere and spirit of the event. You can impress your guests at your event and make it more memorable for them. Making the event more exciting and entertaining for your guests will make them mark their calendars for any future event organized by you. Once you decide on the location, theme and set the atmosphere, find out ways to enhance your event. Photo booths have become trending and they are a great way to promote social media sharing of your event. Having a Bilimbe photo booth at your event can also give you a lot of advantages.
Photo booths are great icebreakers
Many of your guests won't know each other and in office events or parties getting to know someone seated at the conference table is not an easy thing. A photo booth breaks down the communication barrier between the guests and help them have conversations while standing in line at the photo booth. Bilimbe Photo booth helps the guests interact with each other and have unanticipated fun.
Photo booth is more fun and entertaining
The fun and entertainment is the important factor that adds value to a photo booth at your event. Being easy to set up in the venue of any size with some fun props and cute background, photo booth will definitely provide fun for your guests. There are also different types of photo booths like Selfie photo booth, instant photo booth, GIF photo booth, mirror photo booth, open air photo booth and others that can be chosen and customized as per your requirement and budget. The more the people enjoying your photo booth, the more the attraction it gains in social media.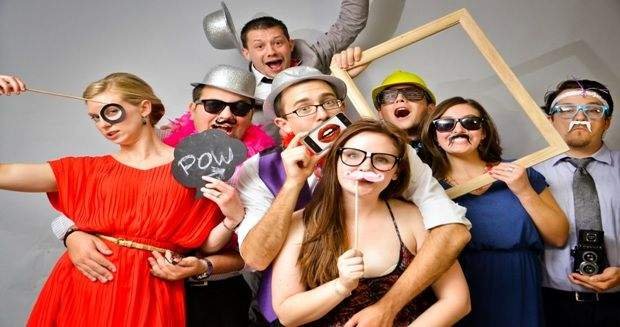 Reach out to social media
Your guests will want to share their fun pictures taken at your event's photo booth with others through their social media account. Most of the photo booth companies now have the technology that allows guests to email the photos to their mail ID instantly or share it on their social media account using your unique event hashtag. Thus, your guests will be able to share your event photos on their social networks like Twitter, Facebook and Instagram.
Provides great memory keepsakes
A photo booth can provide you with pictures right after your event. You can have a guest book with all the fun photo strips and custom messages from your friends. Your guests can also take home one copy of the photo taken at the photo booth as a reminder of how much fun they had at your event. Having a printed copy of those funny photos for a long time is a priceless souvenir and your guests will love it.
What social photo booths mean for your event
Social media rules the world now. Imagine your guest's social media wall talking about your event with a few photos along with your unique event hashtag. Feels good, isn't it?
So, how can you take advantage of your event on social media? Choose a photo booth company that provides a smart photo booth, which lets your guests take photos or GIF's or looping videos and post it directly to their social media account. You can ask the guests to use your event hashtag so that you can know the reach of your event online.
If you are thinking of hiring a photo booth for your next event you must choose the right photo booth company. Bilimbe offers the best photo booth in Delhi with professional attendants who are trained to operate the booth and take care of everything so that you need not worry about anything and can have a good time. Hire now at the best price in the market.