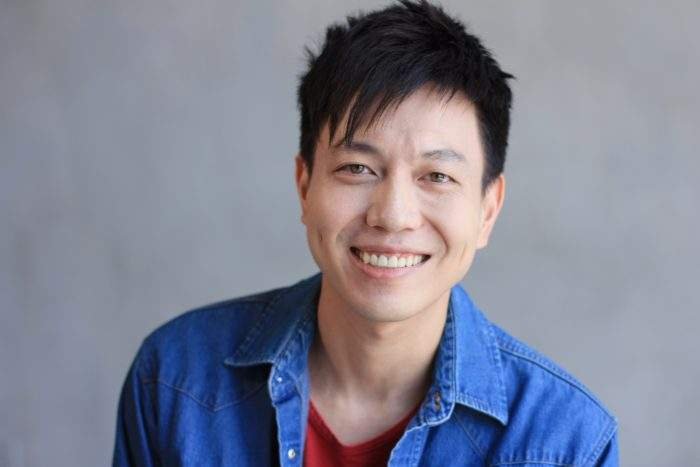 From the time he was just a child, growing up in Seoul, South Korea, eP Cho has always been fascinated by film. It was different from other kids his age who simply liked to be entertained by the latest blockbuster. For Cho, it was immersive, and he would study the films he was watching. He would go to the theater alone, taking in as many movies as possible, seeking comfort in the vast worlds one can build through the medium, the way even the most vulnerable people in society could be represented. 
"I was thrilled to see that there were different people and worlds out there, and that made me feel safe because I sometimes secretly felt weird about myself because of the way I see things and feel. I was a sensitive kid and in Korea as a man, it was not a good thing to be like that. I had to hide my feelings and sensitivity, but I was allowed to cry, laugh, and do whatever I felt like the moment I watched a film," he recalls.
This passion led Cho to become an acclaimed actor, and he has been making the movies that so inspired him as a child for over a decade. He is an industry-leading professional in Japan, where he now resides, and abroad, starring in award-winning productions like the Japanese films Sex x Friend and HIV x Love, as well as Parallel Hate, The Painter's Apprentice, Sukimasuki, and many more.
"I like being an actor because all of your life experiences are the basis of your art. It is a therapeutic thing that you work on your acting as much as you need to work on yourself. It requires a lot of introspective work, which I love to do and from the work, you can realize a lot of wisdom and understanding about yourself and the world," says Cho. "I think because of this job, I became more interesting, compassionate, and curious about people that I personally don't like or agree with. I become stronger with all my sensitivity. It is such a gift to feel this way and to be an actor."
Cho's first experience with vast success as an actor came when he worked on the 2011 film A Little World. The film tells the story of a Korean student, Junsu, played by Cho, who has to leave Japan even though he has a talent for being a photographer. The very last night before he leaves, he has a farewell party with his friends and meets a girl on the street who is studying Korean. They decide to explore Tokyo before Junsu leaves to find his dream again.
Cho was the ideal actor to play Junsu as he can fluently speak Korean, which is where the character was from. They had shared life experiences, allowing Cho to bring authenticity to the movie with detailed, unspoken movement and expressions that were needed to truly transport audiences. It is a memorable performance and one that Cho truly believed in.
"There were not many stories about foreign students in Japan, and I really wanted to make something about it from the point of view of a young man who struggles with a life that was relatable to the audience. I wanted to tell them that everybody is different to some degree; we are not too different. I like this story because it is a story of a minority, but so relatable to anyone. It's about anyone who has a dream but experiences failure. I know everyone has this type of experience, and it often ends up being okay. Not because we are giving up, but at the end of it, we can find a new dream, which is really the heart of the film," says Cho.
On top of starring in the film, Cho also produced the project, and helped bring it to life both on and off screen. Because of his diligence, A Little World premiered in 2011 at the Korea/Japan Cultural Exchange Festival in Seoul. It then went on to the Metropolitan Film Festival, Associate Grand Prix, the Short Film Festival in Mexico and Beverly Hills and also won the Best Audience Selection at the 4th Dammer Film Festival.
"I feel honored and happy that my work got recognized by many people and was seen by people worldwide. I hope whenever someone experiences hardship in their life, they can see hope from this film. It felt that way for me. This success brought more desire to make films and to be part of this type of movie, which I have now been doing for the last 11 years," he says.
Be sure to stay up-to-date with Cho's upcoming work. He is definitely one to watch.