No other colour evokes feelings of pure grace and elegance quite like white. Unfortunately, when you're looking to don a white dress  (especially a long white dress), it's also a colour that instantly evokes notions of nuptials. Not everyone who wears — or wants to wear — a white dress is planning a walk down the aisle, so the question arises: how to wear a white dress without looking like a bride?
It's all in the subtleties, friends! Read on to find out how to wear white without looking like it's your big day.
Strong Lines
While just about any white dress could be a wedding dress, most wedding dresses have a certain structural whimsy. This is why a great way to set yourself apart from the blushing bride contingent is to opt for a white dress with strong structural lines. Think geometric necklines, backlines or straps. Alternatively, you can embolden any white dress with geometric jewellery, like earrings or a statement necklace.
 Go Super Sexy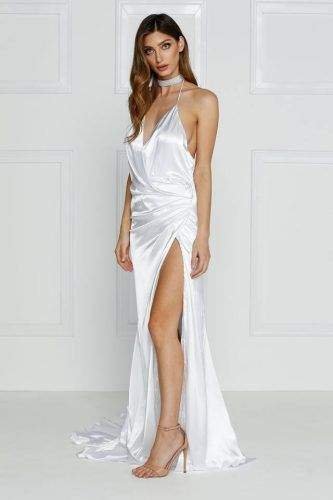 Of course, many wedding dresses are sexy, but not all of them feature jaw-dropping and gravity defying necklines or back or side cut outs. You can also up the liquid-sex look by opting for high slits. Basically, you're looking to take the purity out of the colour. You don't need to go crazy with cut-outs, slits and plunging necklines: one feature is often enough to set your white dress apart from a wedding dress.
Avoid Diamond Bling
The diamond-frosted look screams wedding, so if you don't want your white dress to symbolise your eternal love, then select accessories that are decidedly non-wedding. Think brass, leather or copper. Brass earrings and brown leather strappy heels, for instance, are two accessories you can add to a white dress to make it just a white dress. An awesome white dress, but a white dress nevertheless.
Think Texture
Most wedding dress material looks gentle and ephemeral. An easy way to ensure your dress doesn't looking wedding worthy is to wear a dress with a tougher, rougher bolder texture. Or even a dress that mixes textures. A blatantly mixed media approach isn't typically something you'll see on wedding dresses. Think lace with white leather for a bold look, or eyelet and taffeta for a style that's too fun to be wedding formal.
Shoes for Thought
You will also want to steer clear of traditionally 'wedding' shoes, like strappy silver sandals with diamond encrusted embellishments or white pointed-toe pumps. Wear a pair of purple velvet ankle boots, or rounded-toe baby pink pumps. Typically, you won't see either of these picks on a bride, the ankle boots being too informal and the rounded-toe style of the pumps also making them more casual.
You don't have to use just one of these ideas: feel free to use as many as you want at once. Just bear in mind if you are not going for the bride-look, but are going to a wedding, a white dress is totally tacky, so save white dresses for beach parties and gala affairs.