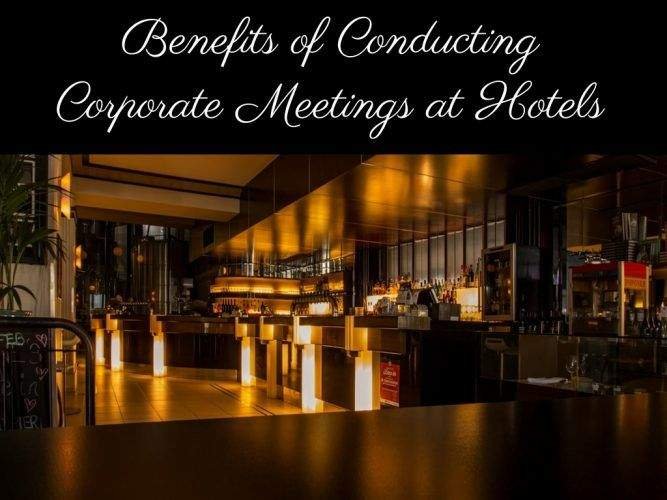 It's easy to think that the best venue for your corporate meetings is at your own headquarters – so called on-site meetings.
There are, after all, advantages in conducting meetings in your territory.
For one, it's cost-efficient and doesn't require much prior planning. However, while these may be true, there have been convincing arguments on the effectiveness off-site meetings – meetings conducted outside an office – as well.
Are you wondering why you should hold your meetings outside of your office? Then you've come at the right place! This article will explore the benefits of conducting corporate meetings at hotels.
Allows you to use the best amenities
Most, if not all, hotels have rooms specifically designed for corporate meetings.
They pack these rooms with the latest and best tools that you could use at your own disposal. Some of these amenities include large screens, high-quality projectors, and excellent audio components.
Even the arrangement of chairs and desks are taken into consideration when preparing these rooms, so you can rest assured that everyone will be comfortable and you can provide them the best presentation that you possibly can.
Increases attendee engagement
On-site meetings often go on for hours without end due to several reasons.
One of which is the fact that employees are easily distracted and are often still thinking about their daily workloads as they enter the meeting room or hall. So even if you're all physically in the same place, your minds are not.
Off-site meetings, on the other hand, help redirect all their thoughts and energy on the relevant subject matter.
When you're out of and far from your workplace, you tend to think less of your tasks and responsibilities.Out of sight, out of mind, as they say.
Stimulates creativity
Another possible reason meetings tend to go on forever is due to the lack of ideas thrown around the room.
Without ideas there's no progress, and without progress, there's no reaching the finish line.
Using the same conference room over and over again usually stifles employees' creativity. So once you get people out of that suffocating room and place them into a more conducive environment, they'll also start to break out of their shells and will be able to think out of the box more.
Hotel rooms are the perfect place for this as their huge and beautifully decorated, making employees feel more free.
Strengthens camaraderie
Meetings held at hotels rarely start or end right off the bat. Usually, there are activities before, after, or both.
The activity can be something as simple as a quick lunch, dinner, or breakfast, creative ice breakers, or a full-on relay course laid outside the venue – really depends on the company.
These fun activities will help employees form a bond and allow them to get to know each other outside the workplace. It may sound cheesy, but these memories will help strengthen their connections.
Key Takeaway
While there's nothing wrong with on-site meetings, you should seriously consider doing these corporate meetings at a different venue.
There are more advantages to this practice than there are drawbacks. It's also a great way to make these meetings more fun and engaging rather than boring and unappealing.
By the end of it all, you'll find that you can achieve more things when you're outside the workplace!