Dubai is the land of indefinite possibilities. It is a destination where impossible visions become reality. Gazing at its high-rise iconic structures and mind-boggling attractions make you realize that anything is possible in life if you put sheer effort and focus on it. Dubai is home to a host of man-made islands; most prominent among them is the Palm Dubai and many of Dubai's tourist places are all out of the box ideas. The emirate's perseverance on transforming itself from a barren desert land to a dynamic global city shows that anything is possible. At this destination, you get to visit attractions and sights which can be found nowhere else in the world. Here's what you are missing if you haven't planned a Dubai holiday as yet.
Dubai has the best of everything in the world


When you visit Dubai, you are surrounded by the best of the best in the world. Everything here is on larger than life scale. Whether it is the world's most luxurious hotel – Burj Al Arab Jumeirah, the tallest tower in the world – Burj Khalifa, or the largest floral garden in the world – The Dubai Miracle Garden, each of these Dubai attractions once seemed an unattainable feat. And the list is never-ending. You are guaranteed that on your trip to Dubai, you get to experience some of the most groundbreaking, record holding attractions and experiences in the world. In fact, landing at Dubai airport itself starts your record-breaking experiences as you just arrived at the world's busiest airport. From there the journey is full of such sights. There isn't another city in the world that has challenged itself to create so many world records. Currently, Dubai holds around 139 world records.
Humble culture – The other side of Dubai

Dubai seems all about sophistication and high-class living, but the emirate was once a modest desert village of merchants. While the glitz and grandeur are what allures travellers from around the world, the dynamism and modernity of Dubai is just the outer layer of the emirate. Explore beyond these classy ambiances and you will find a modest blend of Arabian ethnicity along with other nation's cultural influences. A visit to Dubai's old townships of Al Bastakiya, cruising down the Dubai Creek on the traditional abra and taking a stroll through the old-fashioned souks of Dubai altogether offers a different perspective of Dubai. Since Dubai is a city filled with expatriates, you are in for a treat to witness a fascinating medley of cultures from around the world.
Dubai's shopping scene is extravagant

It needs no proof that Dubai is the ultimate destination for shopping in the world. Considered as a shopaholic's mecca, you can get anything under the sun on a unique shopping experience. There are immense choices available for shopping; some of the best places to visit in Dubai are the numerous exquisite malls in Dubai. Here, you can explore the largest mall in the world – Dubai Mall or saunter through the rustic alleys of Dubai's traditional Souks, each experience is different. Every year, Dubai ushers the New Year with extravagant festivals, the most popular among them is the month-long Dubai Shopping Festival, which features as one of the popular things to do in Dubai for avid shoppers. Right from designer brands and exquisite merchandises to traditionally handmade textiles and handicrafts, Dubai offers you the ultimate shopping experience of your life.
Dubai is a haven for food lovers

Just like shopping is a favourite pastime for Dubai dwellers and visitors; it also encourages an incredibly feverish food scene. Dubai is bursting at the seams with local and international restaurants. You can find some of the best culinary chefs styling dishes in Michelin starrer fine dining restaurants. Discover the luscious Middle Eastern food treats in the eateries set at the alleys of Old Dubai. Crammed up with cafes, bistros and street markets, Dubai will entice your taste buds with appetizing aromas and flavours. Being a popular tourist hub, the food scene in Dubai amplified with international flavours. Whether you are craving for Thai food, a Turkish meal or French dessert, you will get your wishes fulfilled.
In Dubai, explore leisure in luxury

Dubai is synonymous with luxury. The emirate lets you experience leisure in ultimate lavishness. If you are willing to splurge, then Dubai offers you the best in luxury travel. You could tweak up your Dubai tours such as Dubai City tour or Desert Safari tour into an extravagant one by upgrading to a Heli tour of Dubai or premium Desert Safari tours in land rovers and luxury canopies. You can even drive around the city in your dream luxury car which you can rent during your stay in Dubai. Get pampered in luxury wellness spas and stay and dine at some of the opulent hotels in the world. Moreover, you can stay and experience a lavish fine dining experience in the world's most luxurious hotel – Burj Al Arab Jumeirah. So if you are seeking a luxury escape, Dubai is the best destination to experience it.
It is an international hub with hassle-free accessibilities and amenities+
Dubai is an international travel stop. The Dubai international airport is the busiest airport in the world welcoming more than 80 million visitors annually. Almost all long-haul flights make a stop at Dubai for connecting flights and this has made Dubai a famous stopover destination for tourists flying abroad. Traveling within Dubai is very convenient. With unmanned, high speed, state of the art metro lines, day and night taxis, city buses and water taxis, Dubai's sectors are well connected and easy to access. You wouldn't find any difficulty to travel from one Dubai point of interest to another as even the attractions are located quite close to each other. You can even choose rental car options and drive around Dubai sightseeing exploring the emirate at your own pace.
Venture into a futuristic city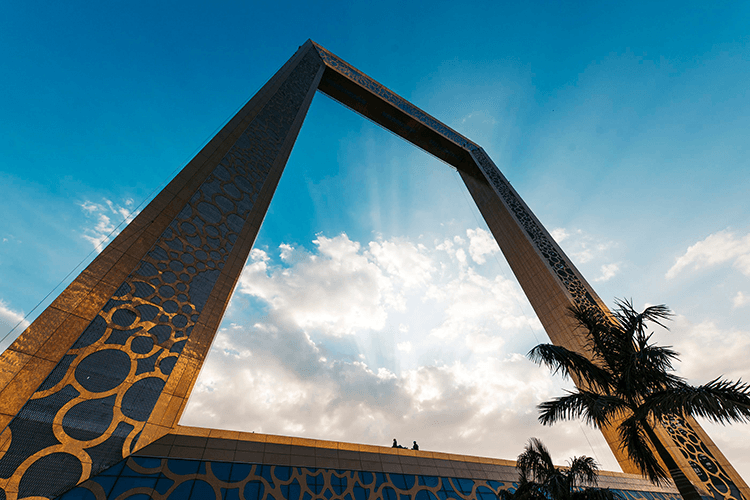 Dubai doesn't stop when it comes to challenging itself innovatively. This revolutionary emirate continues to evolve with time. Even though it has some of the most unbelievable structures and architectural marvels in the world, it strives for more and keeps pushing forward creating further extraordinary Dubai attractions. The recent addition to its list of incredible attractions is the Dubai Frame – a 150-meter colossal picture frame dominating the city skyline. If you are visiting Dubai this year and wondering what to do in Dubai, and then keep your eyes open for these upcoming projects. Dubai is in preparation to present to the world Ain Dubai – the world's largest observatory wheel and Xline at Dubai Marina which is considered to be the world's longest zip line in a city.
Dubai grants all your wishes. There is something for every type of traveller and for all ages. With its staggering growth and towering ambitions, Dubai has always aimed to be the top tourist destination in the world. Moreover, travelling to Dubai is simplified as it serves as a stopover for most international flights, accessibility is superbly efficient and well-maintained, and Dubai visa requirement is also quite convenient to comply. The city is safe, secure and the crime rate is also very low as the laws are quite strict and punishments for breaking the law are severe. So if Dubai is on your mind as your next travel destination, you have made the right choice as it will be one of the most memorable experiences you will cherish for a lifetime.