Choosing the right floor covering for your home should be on the top of your priority list as a house owner. When you set out to look for a floor covering, you will be bombarded with an entire lot of options. But you need to know better than getting intimidated by options and choose a rug. A rug is the perfect floor covering for any living space and you should make sure that you select the right one for your house.
Not only can a rug enhance the look and feel of a room, they also have a range of practical benefits – from warming your house, to reducing the noise. Apart from the obvious there are 7 practical reasons to choose the right rugs for your interiors.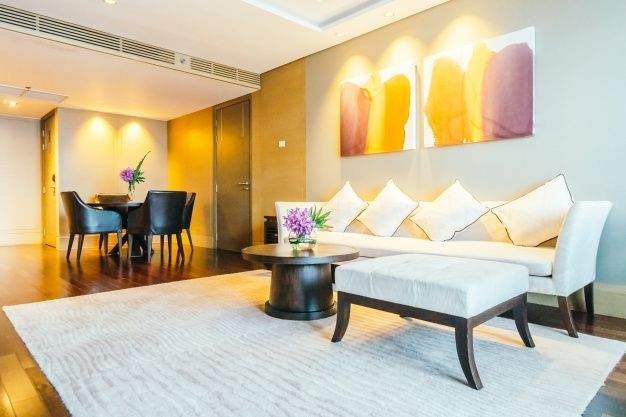 Enhance your décor:
Majority of the people buy rugs just because they want their décor to look good. And maybe this is why rugs are available in almost every colour, design, material, and shape you can ever imagine. A quirky or bright-coloured rug can make a pretty bold statement, while a neutral or traditional patterned rug may serve as the perfect complement to a room. You might also want to place a dark rug on a light floor and vice versa for contrast.
Your guests will feel more at home:
It is common knowledge that majority of the area rules disapprove of placing welcome mats outside the door. But you can definitely put a small rug that says "Welcome" just inside your door. Such a rug can serve as a great welcoming gesture for your guests as they enter the apartment while also giving them a convenient way to wipe their shoes, which helps in keeping your house clean.
Increased safety:
Rugs provide an immensely comfortable surface to walk on; moreover, they can also help in lowering the risk of injuries from slipping accidents inside the house. If your house has a long hallway and you have toddlers living with you, adding a rug there can help in preventing injuries. Furthermore, if you have noticed that your floor gets slippery after being cleaned, you might want to place a rug over the wet part to avoid slipping hazards. When you utilize rugs, make it a point to use liners beneath to keep them firmly in place. You can also utilize a bath rug to absorb water and prevent slips after showering.
You can hide your floor's imperfections:
When you choose wooden flooring for your home, it is natural that after a certain time period it is going to get stained. Or in many cases there is some imperfection in wood that messes up the overall beauty of the floor. If a small part of your floor is damaged, you can use a beautiful rug to cover that up and make it look like a piece of art.
You can save yourself from the neighbour's rage:
If you live in a rented apartment, then you are aware of the fact that rules require 80% of the floor to be covered with some form of floor covering. If you fail to do so, your house might be on the radar of the neighbours for making too much noise. And you definitely do not want to have ugly spats with your neighbours. You can avoid all of this by simply choosing a superior quality rug for your house which will help in reducing the noise.
No more echoing:
The concept of echo might be fun when carried out on the top of a mountain but it can prove to real scary in your house. When you initially move in, you hear a lot of echoes because the house is empty but as you start adding items that absorb that sound such as furniture and rugs the echo starts diminishing. If you find that a particular room or a hallway has too much of an echo for your liking, adding a rug to that area should help you.
Spruce up a gloomy room:
If you have just rented an apartment, you are probably stuck with whatever carpet the place already had. If you find it too gloomy, then you can add rugs to change and enhance the ambience of the room.
These were the 7 practical reasons to choose the right rugs, we hope these might prompt you to go and get a rug right away!